Create Your Own Artist's Stamp
A postage stamp, as we know it, is a receipt of pre-payment for the forthcoming service of delivering the parcel to which it is affixed. However, just as medals are to coins, so also stamps can have other commercial or purely artistic pursuits.
Business partners and creative directors of Plazm, a design firm and magazine, Josh Berger and Niko Courtelis have announced the creation of The Portland Stamp Company. With The Portland Stamp Company you can create your own artist's stamp, or they can design a custom stamp for you.
Niko is a passionate collector of stamps, and an artist and designer in philatelica. He has collected stamps since he was a young boy and has designed official postage stamps for countries including Grenada, Sierra Leone, Tuvalu, and Zambia. As Chief Perforation Officer [CPO], he oversees a new venture that revives a lost tradition: the poster stamp.
Commemorative poster stamps are artifacts from another time. These miniature bits of advertising were popular in Europe at the turn of the century. Their appeal, utility, and popularity quickly grew, becoming ubiquitous in the United States in the 1920s.
Used on letterhead and envelopes to promote brands, products, and events, these small, ephemeral items provide visually stunning examples of the popular art movements of the time. The iconic work of famed designers such as Lucien Bernhard and Alphonse Mucha can be found on poster stamps.
Vintage poster stamps collected by Niko Courtelis
When I was a small child, my family drove around Wisconsin visiting extended family, which seemed to number the entire state.
My mother had a removed uncle who lived in a mansion with a Porsche. In his library, he pulled out a deep built-in drawer that was heaped with loose stamps. My sister and I each got to take two handfuls of booty. My parents bought us stamp books to organize our new collection from unknown places around the globe. Little posters of foreign scripts and images.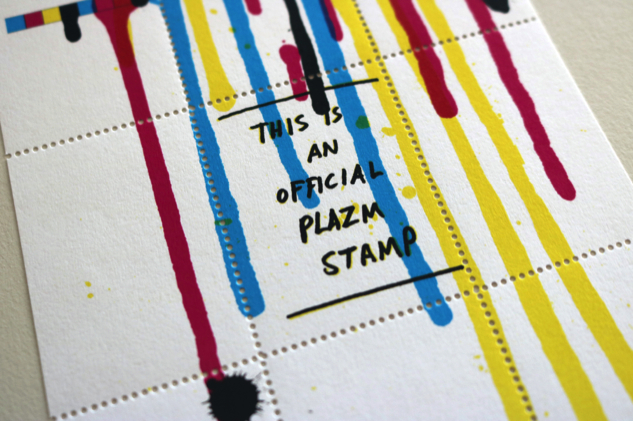 Vintage poster stamps collected by Niko Courtelis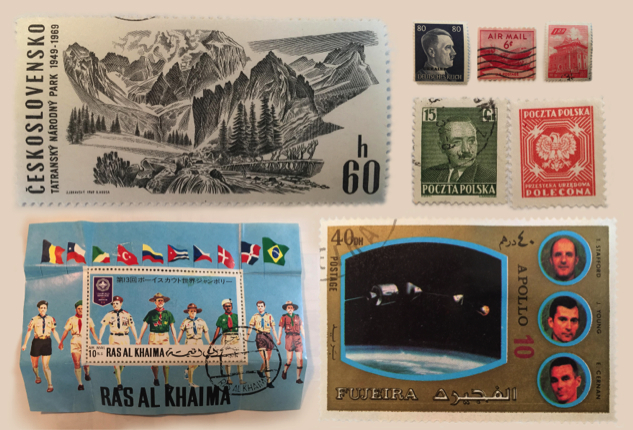 Stamps from Jim Kenney's childhood collection
I jumped at the chance to print my own stamp with The Portland Stamp Company – a stamp to represent my professional art practice, InterStitch. Message me to get one in your mailbox : )