In 2016, Crahmanti, an art and design collective, was commissioned to create exhibits and way-finding for the Bend DesignCon. Included were 2D & 3D signage, interactions, and media installations.
Modern citizens may believe that design is now fully digital, but click to explore Crahmanti's very real process.
THE EXHIBIT DESIGN HAD THREE MAIN COMPONENTS :
1. WAY-FINDERS / BRANDING :
Branded light boxes / hand-painted signage on canvas / sidewalk stickers / window decals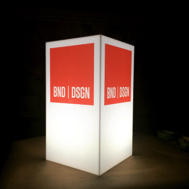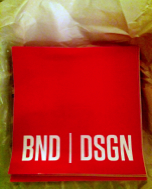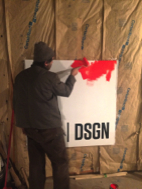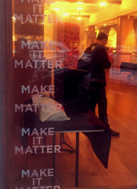 2. INTERACTION :
a PNCH Wall increased exchanges with businesses in Bend, OR. Local swag was placed inside of each hexagram, along with a slip of paper with a social media call-to-action.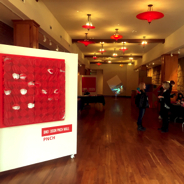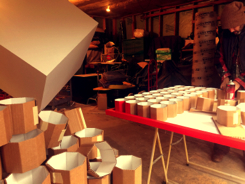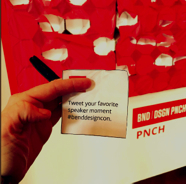 The Hexagrams were covered with 2 layers of tissue paper, that the conference attendees were encouraged to PNCH and retrieve their prize.
3. MEDIA : A PROJECTION-MAPPED CUBE INSTALLATION
Crahmanti built the media cube to encourage participants to engage with the entire exhibit space. The 4'x4' cube stood at
over 7 feet high, with content projection-mapped to each side, creating a true 3D experience to engage attendees.
The media cube featured a music video by Heather Crank
for Publicist UK, 3-D geometric animations by Gary Tussey,
a motion graphic film by Hayley Akins, and interviews with prominent designers, including Lilian Darmono, David Carson, and Chip Kidd.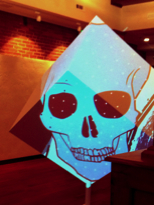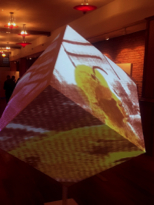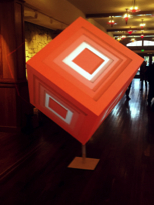 Achieving the seamless mapping with only
two projectors required a process of testing with both digital and analog modeling.
For Gary Tussey, calculations were crucial for the height of the projectors, distance of the focal length, and the angles of the cube. Meanwhile Greg Amanti, a master artisan mold-maker, fabricated the cube and its supports.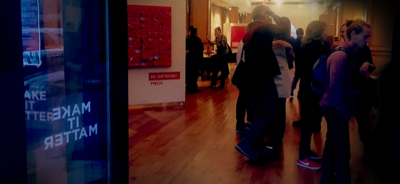 QUESTIONS FOR HEATHER CRANK, Creative Director of Exhibits for BND DSGN :
1. Tell us more about the talking pulsing box :
The cube was very challenging...because of the focal-length issue, and the back of the exhibit space wasn't completely dark. So Gary created a template that split the video renders into 4 sections.
Therefore, each projector had 2 parts of the video projecting onto the cube. For the projectors, Greg made two white inconspicuous columns to achieve the necessary calculated height and distance.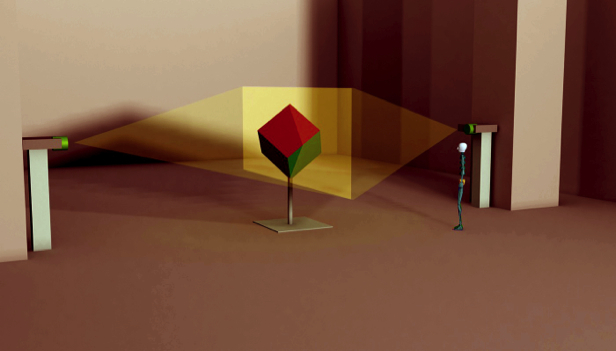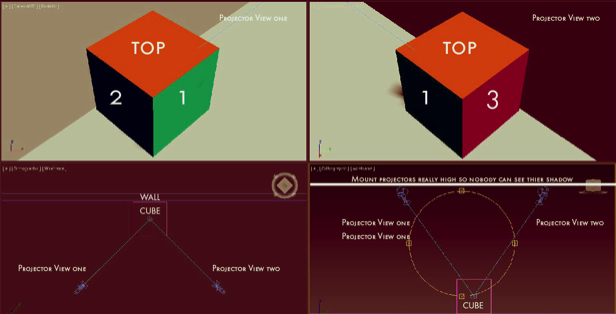 2. You've lived in multiple larger design markets, but recently moved back to Bend, OR, where you grew up. How has that affected your art and design pursuits?
It is a seemingly smaller pond, but there are some really talented people who live here.
That allows us more creative freedom, because less is established here. Creatives here are a close knit group. Our smaller pond swims with more compatible fish. We find joy in our passion to collaborate within the growth of our larger community.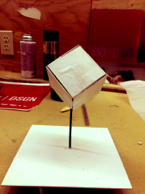 Heather Crank / Creative director Exibit design
Greg Amanti / Exibit Fabrication
Gary Tussey / Technical director, 3D animation, Projection on-site setup
Jason Lovejoy/ Installation
Crahmanti is a full-service art+design and branding agency, specializing in graphic design, motion graphics, and installations. Additionally, they maintain a deep bench of content and technology freelancers. In 2016, Crahmanti added Gary Tussey, David Obuchowsi, and Jason Lovejoy to the in-house team.

CRAHMANTI'S PULSING CUBE /
For the Bend Design Conference